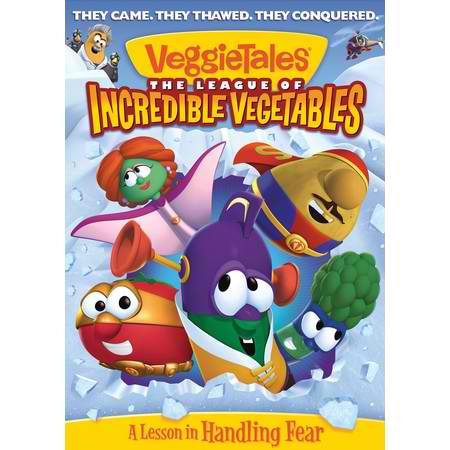 The League of Incredible Vegetables, the newest DVD from VeggieTales' has been a long awaited episode in my household! My youngest is a super-hero junkie, and while I like Ironman and The Avengers, I sometimes worry about the sarcasm used by the heroes and the adult-situations of these films. But VeggieTales has been a trusted brand in our home for the last 15 years, and continues to be a franchise which our family can continue to grow in Christian character with!
In this newest LarryBoy thriller from VeggieTales', It was a bright and sunny day in Bumblyburg... until Dr. Flurry came to town. This chillin' villain wants to freeze the entire city... in fear! This job is too big for LarryBoy to handle alone, so he turns to "The League of Incredible Vegetables" for help! Thingamabob (Bob the Tomato), S-Cape (Mr. Lunt), Vogue (Petunia Rhubarb), and Ricochet (Junior Asparagus) are up for the task, but find that their own fears could land them in Dr. Flurry's deep freeze! Will they remember to turn to the One who is bigger than all their fears before the whole town ends up on ice? Find out in this heroic new VeggieTales episode with a lesson in handling fear!
Special Features on DVD:
Featuring the new theme song and music video from The Newsboys!
The Silly Song: Supper Hero.
League of Incredible Vegetables Music Video
Behind the Scenes
Guide to Raising Incredible Kids
Studio Commentary
English and Spanish Subtitles
Run Time: 45 minutes
**NEW APP JUST RELEASED:
Your kiddos can now be superheroes themselves as they fight Dr. Flurry and de-ice Bumblyburg! Available for
iPhone, iPod touch, iPad, and Android devices
.
Get this brand new app at itunes or Amazon.com
The League of Incredible Vegetables can be purchased directly from VeggieTales for $11.99 or at your local Christian or general retailer. This movie makes a perfect Christmas gift! Also, you've got to see the toys that correspond with this movie! Very cool stuff for boys and girls!
VeggieTales is generously offering one of my readers a copy of The League of Incredible Vegetables!